About Us Home
About Divya Tools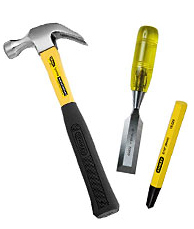 The BRAND Divya Tools is serving clients from last 40 years with best satisfaction. We Manufacture and Export High Quality TOOLS. It is a House Of Striking Tools & DIY Tools.
Experience creates values and controls development, Which we form consciously with Passion. As one of the Oldest Manufacturer of Hand Tools In INDIA and promoting the slogan of MAKE IN INDIA.
With Continous Development of future oriented innovations for our customers this technical tradition mixes with intelligent and modern Products and Services for Challenging Problems. 
This all credit is goes to the HEAD of the Foundation of DIVYA TOOLS Mr. Sukhwinder Singh 
We Believe in Manufacturing Relationships. Delivering Values to our Overseas as well as Inland clients From Last 40 Years
Customer Satisfaction is not only measured by uncompromising quality but as well as by working system and frictionless processes. DIVYA Tools joins serious warranty performance, reliable just in time logistics and customized on demand service to a convincing service package
By doing this we follow the requirement to react appropriately to every situation.
Think Of TOOLS Think Of US
TOOLS - An Anchor Of TRUST
Our major focus on "Quality" "Time Factor" "Team Spirit" "Continuous Innovation" "Customer focus" "Global Reach".
"We believe in delivering value to the customers even before they feel the need."