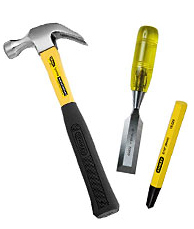 The BRAND Divya Tools is serving clients from last 40 years with best satisfaction. We Manufacture and Export High Quality TOOLS. It is a House Of Striking Tools & DIY Tools.
Experience creates values and controls development, Which we form consciously with Passion. As one of the Oldest Manufacturer of Hand Tools In INDIA and promoting the slogan of MAKE IN INDIA.
With Continous Development of future oriented innovations for our customers this technical tradition mixes with intelligent and modern Products and Services for Challenging Problems. 
This all credit is goes to the HEAD of the Foundation of DIVYA TOOLS Mr. Sukhwinder Singh 
We Believe in Manufacturing Relationships. Delivering Values to our Overseas as well as Inland clients From Last 40 Years